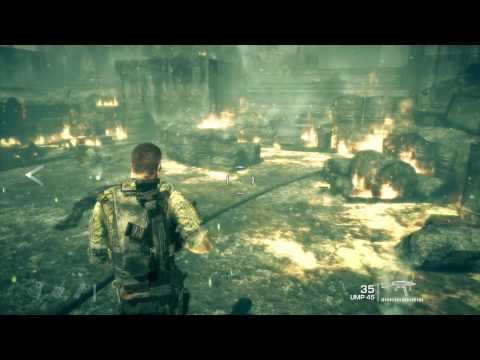 [Note: The article below has many spoilers pertaining to Spec Ops: The Line. If you haven't played it I suggest you do as it's an excellently written game with an incredible story.]
There are two men, hands bound by rope. One has stolen water, a scarce commodity, which makes his theft one that's much more punishable. The other man killed the thief's family. I have the option to kill both, walk away, or save them. I calculate the situation: my team's beaten and battered, and can't sustain another firefight. I walk away and leave them to the snipers. This is but one choice in Spec Ops: The Line, a game that has a narrative that's as compelling as the gruesome violence.
Spec Ops: The Line will unfortunately be overlooked by many gamers and considered a mere Call of Duty clone. A shame, really, as the game's reminiscent of the very powerful Oliver Stone Vietnam film Platoon, which shows soldiers performing inhumane acts of violence. In the film, we see soldiers break rank, kill civilians, and even commit murder and mask it as friendly fire. Oliver Stone used very dramatic, but realistic events, which in turn raised awareness on the stress and hardships endured by soldiers and civilians during war times. It doesn't cheat its audience. Neither does Spec Ops: The Line.
You control Captain Martin Walker, and other Delta Force members, in a ravished Dubai as they evacuate survivors and hunt Colonel Konrad who has gone rogue. Along the way, players see first-hand the atrocities committed during war: Dead civilians by the hands of death squads, immolated bodies scattered about, and torture victims. It's all despairing, and with each atrocity the game became more politically aware than any shooter, first- or third-person, on the market. Each cut scene became more tasking for me, especially a particular encounter with White Phosphorous, a weapon that's outlawed due to its destructive and lingering effects.
Spec Ops: The Line is an example of a game that has a narrative and violence combination that has lasting effect on its audience. If done well, the pair can engage its audience to the point of discomfort, anguish, and overall self-reflection. When it fails, it leaves players with a flat experience that 's simply violent for violence's sake. Spec Op: The Line uses violence to paint a vivid picture about war's horrors. It does it with a chilling narrative, that's both compelling and self-aware.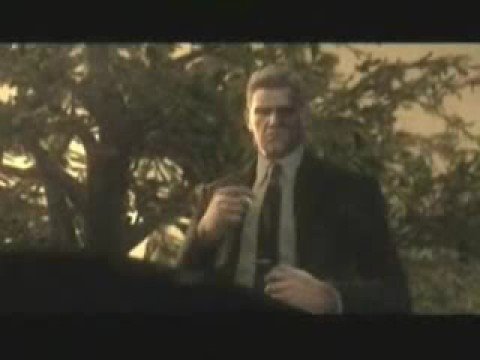 On the other hand, Kojima Productions' Metal Gear Solid 4: Guns of the Patriots, does not. MGS4 felt very much like Solid Snake's final mission — the game goes through great lengths to refer to its protagonist as Old Snake, as he suffers violent shakes, back pains, and coughs courtesy of FOXDIE. In the end, the crippling virus drives Snake to the unthinkable: suicide. He places the gun in his mouth and tensions rise. Watching an old and battered Snake pull the gun from within his mouth felt like a cop-out. I was ready to say farewell to a hero, but instead received an ending more in line with a Disney princess movie than Metal Gear Solid. Snake is very much alive, Meryl's getting married and everyone lives happily ever after. Imagine the ramifications and the emotional thump, if Snake pulled the trigger. The video above is powerful…until you realize Snake is spared death.
Compare this to one of Spec Ops: The Line's endings. After a huge plot twist you're left staring at two reflections. Either you shoot the antagonist's reflection, or do nothing. Doing nothing causes Walker to commit suicide.  Walker arrives at this point after witnessing  the crimes against humanity brought about by his direct orders. We watch as his sanity fades away with each violent and traumatic occurrence, so it makes sense that he wants to end it all. And it impacts the player in a unique that hasn't been done in a shooter, or many games, up to this point.
MGS4 may have dodged an important violent moment to continue Snake's adventures, but the God of War series walks the opposite path: its love affair with violence undermines the story. With each series entry it seems the developers attempt to out-gore the previous title, and in doing so, forget its relation to the plot. The violence in the original game is shocking, but it makes you feel powerful without going a tasteless route. This is in sad contrast to the violence featured in GoW 2 and GoW3.  Instead,we're given outrageous plot twists in order to compensate for the games weak narrative and character development.
A prime example is the Hercules boss battle in GoW 3 where players repeatedly  punch Hercules in the face until its nothing but skull and blood. Or the more brutal boss battle which ends with Kratos ripping Helios' head off with his bare hands.  The violence in God of War has gone from shocking to just ridiculous and juvenile. The recently announced God of War: Ascension, for example, depicts Kratos scalping an elephant enemy. I neither cringed nor found it amusing; it elicited no emotional response. It's empty violence.
Yet the violence in Spec Ops: The Line is chilling. At one point, players are given the choice between shooting an enemy who's pinned under a burning vehicle to prevent him from burning alive, or walking away. Either choice is extremely violent. The sound of putting a bullet in someone's skull at point-blank range is gruesome, but hearing the screams as someone's  burned alive is also haunting. 
Shooters have also experienced the disconnect between violence and narrative. Let's analyze a particular event in Modern Warfare 2: The infamous "No Russian" stage. It sees players killing innocent civilians in heaps.  It's skippable, but there's a blaring plot hole that arises from this mission. The Russian government is unable to identify the antagonist Makarov using the camera footage, but that same footage helps identify a bullet that's recreated and traced back to a favela in Brazil. How is this coherent? This isn't just bad storytelling, but it also insults the players intelligence (watch first 40 seconds of video below). Yet fans tend to just dismiss this and claim that Modern Warfare 2 is a multiplayer game and the campaign is just an extra. 
Battlefield 3 also features an act of senseless violence that's intended to enhance the narrative. Half way through the campaign we see a televised execution of an American soldier–a playable character. It's tactless and does nothing to enhance the story or engage the player. It's conclusion seems only to exist to challenge  Call of Duty's shocking moments. Instead, I was left puzzled. He has a son, but much else is known about the soldier. Another empty, emotionless act of violence.
Telltale does a commendable job with its recent The Walking Dead games. Editor-in-Chief Jeffrey Wilson, pens about his gut-wrenching experience and choices that he's had to make. In his write-up, he correlates his  sense of dread that precedes and follows the act of violence he commits. A tightly-woven story with fleshed out characters will often have that effect, but there aren't many games that enlist that involvement.
In fact, there appears a correlation between strong narrative and decision-making. Making a choice that's both difficult and chilling, like the choices made in Spec Ops: The Line and The Walking Dead, have a  lasting effect. In a way, it makes players feel responsible and adds a layer of depth.
The video game industry wants to be taken seriously as an entertainment medium, yet this powerful emotional consequences is rare. There are exception, of course,  but gaming is lacking in this regard. I'm not bashing gaming; on the contrary, I love video games. However, I refuse to just sit idly by as every other entertainment medium continues to evolve. Games are not just for kids anymore. They're complex, deep, and require focus and great attention to play.
Spec Ops: The Line does an extremely great job at raising war crimes awareness, giving the player gripping and difficult choices to make, and telling an intricate and intoxicating story. It's a challenge to the ethos of our gaming generation, a generation that's engulfed and obsessed with virtual violence. I'm not exempt from any of this, yet I know that as gamers we are owed more in terms of story telling. Why can't our medium be put on the same stage and pedestal as film? Until narrative and violence are handled more responsibly, we'll continue to be an after thought to the mainstream media.
Spec Ops: The Line is definitely a step in the right direction, sadly it doesn't have the same marketing that's attached to a game like Call of Duty, Gears of War, or Battlefield. It does so much more as far as storytelling goes than any of its peers. In the end, I was left mulling over the choices I made throughout  the game. Would my second play-through be more humane? I'll know…soon-ish. Part of me needs to mentally prepare to pick up the rifle and step into the Dubai desert once again.
—
You can buy Spec Ops: The Line at Amazon.com for $26.99.