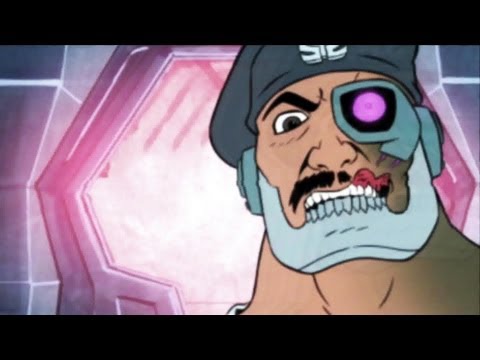 Almost two and a half years ago, I penned an article that asked a sincere question: "Where are the decade-centric games?" I was fresh off playing Frobot, an action game starring a big-haired automaton, when it dawned on me that there aren't many games that leverage the uniqueness of recent decades in American history. At close to 40 years old, I've lived through '70s funk, '80s cheese, '90s extremity, and the '00s nerd culture. I love all the decades in different ways, so its brought me joy to see that developers are finally mining the good ol' days for inspiration.
Grand Theft Auto: Vice City and Grand Theft Auto: San Andreas' commercial successes appeared to signal a change. '80s decadence and '90s west coast gang culture sold millions of copies off a mix of pastel colors, do-rags, synth music, and lowriders. Unfortunately, Rockstar's trend wasn't an industry trend, so decade-centric video games didn't become a thing.
There was a long period of big ol' nothing. Gaming marched forward leaving nostalgia-laced giggles in the dust.
Then along came the WayForward-developed Double Dragon Neon, a game that took a classic post-apocalyptic beat 'em up and applied a wondrous '80s filter. Instead of ultra-seriousness, ultra-silliness permeated the game in the form of high-fives, neon colors, surfer lingo, and a villain seemingly pulled from He-Man and the Masters of the Universe. Double Dragon Neon was easily one of my favorite gaming experiences of 2012 because it succumbed to stupidity.
Months later, Ubisoft followed in WayForward's path by releasing a trailer on April Fools' Day for a first-person shooter that acts as a love letter to '80s- and early '90s-era pop culture. FarCry 3: Blood Dragon, a bizarre offshoot of FarCry 3 that the internet swore was a prank, features cybernetic super soldiers, dinosaurs with laser vision, Michael Beihn as protagonist Sgt Rex Power Colt, and a synth-heavy soundtrack worthy of Drive set in the retro-futuristic world of 2007. The trailer even taps Saturday morning cartoons — and it's absolutely awesome. Messageboard posts, tweets, and YouTube video responses have already crowned FarCry 3: Blood Dragon as "the best game ever," "the game of my dreams," and "incredible" as the internet is wont to do.
"The game is stupid, and it's OK," said Blood Dragon creative director Dean Evans to Polygon. "We're not trying to tap into these super deep emotions and make a 'realistic shooter.' We're embracing what we are, which is an honest, bullshit shooter with mindless fun. And we don't see anything wrong with that."
Indeed. The game taps into admittedly awesome-goofy memories of poorly animated cartoons designed to sell toys, running home from school to catch Chuck Norris: Karate Commandos, and downing bowls of cereal at 7AM on a Saturday morning. It takes me back to a time when the world appeared pure, and my biggest problem was getting a book report in to Mrs. Harris on time.

Still, the post-Aliens: Colonial Marines world needs healthy skepticism. SEGA and Gearbox' sloppy Aliens tie-in pulled on nostalgia strings, too. Blood Dragon could very well be a smaller FarCry 3 with a simple coat of neon paint. Undoubtedly, many would be fine with a just a Photon-like graphic and sonic overhaul, but in order for FarCry: Blood Dragon premise to truly work, humor must permeate every aspect of the game. If Blood Dragon doesn't strive far enough away from its parent title, some — myself included — will consider it a disappointment. I want less stealth-kills and more knock-off Terminator music. Less grim cutscenes and more horrible one-liners. Basically, I want what Duke Nukem Forever should've been. Fortunately, the gameplay footage released thus far shows promise.
FarCry 3: Blood Dragon looks like a bargain basement sci-fi commando movie worthy of JCVD, and I wouldn't have it any other way. Its '80s motif is the vehicle by which smiles are introduced into a somewhat dour AAA landscape — and we need more of that.