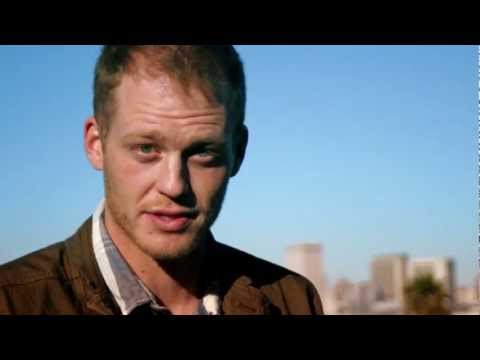 If there's something almost every gamer can agree upon, it's that we have a damned good time splattering zombies. Owen Morris, game director of ARG Zombies wanted to take zombie-slaying to the next level by giving America zombies everywhere. Coming this holiday season to both the Android and iOS devices, ARG Zombies is a title that blurs the line between reality and the game world. I connected with  Owen Morris (Game Director) and David O'Hagan (PR Director) to answer some questions about the upcoming title. A title that you can help get made.
Thanks for joining me tonight, guys. Owen, where did the idea behind ARG Zombies come from?
O: Like I say in the Kickstarter video, I spent a TON of money on games for my iPod before I deployed to Afghanistan, and as we know, games for mobile devices just aren't that deep. It didn't take me long to get bored of, or beat, ever single game I had purchased. At that point, I had no more games to play, and tons of hours to stand in a tower waiting for something to do. Naturally, I created a game where you could kill everyone around you.
In our world there are zombies EVERYWHERE. I don't want to give away anything about the plot either, but the further you get into the story the fewer zombies you encounter. You can only bash in hordes of zombies for so long, y'know?
David, how did you come on board?
D: If I had to describe the process of me coming on board in one word, it would be determination. I met Owen at the smoke pit (designated smoking area for the Marines) while serving together in the Marines; it was rare to find another hardcore gamer there. When I heard about the idea for the game, I asked to come on board. He asked me what skills I had, and then said he would get back to me if he needed anything. This happened at least twice more before finally he let me draw up a character, and start to get involved creatively.
O: When David first approached me, I was used to people getting excited about the idea and then doing nothing. I knew David was a "true gamer" from the smoke pit, but not many people are willing to stick with a project like this.  When David started sending me art again, and again…it was clear he was in, and then it was just a matter of finding where he could get the most done.
David lives here locally in San Luis Obispo county California, and you live in San Francisco. Is communicating and getting work done difficult for the two of you? How do you guys work that out for such a large project?
O: Well, I first started building the game with Romanians…in Romania, who spoke English as a second language, which was rough to start with. So by the time David got involved it was easy for me. Especially since we were both so on the same page creatively.
D: Yeah – because we gamed so much, communicating effectively for raids and everything else over the years made the communication we have almost natural.
It's very interesting how our skills in other video games can help us with the real world. You claimed in the Kickstarter video that ARG Zombies is going to have a good story mode. What can players expect from it?
D: While we want the majority of the games main storyline to remain a secret, I can tell you that hardcore gamers wrote the story, and that there will be zombies..
O: In our world there are zombies EVERYWHERE. I don't want to give away anything about the plot either, but the further you get into the story the fewer zombies you encounter. You can only bash in hordes of zombies for so long, y'know?
Personally, I find that really cool that you guys are taking a completely different angle on a zombie game. It actually, well, makes sense! And most zombie games don't. I can tell you right now I'm very excited. In terms of gameplay, what can we expect? Is it going to be easy to pick up and start? Will there be updates that add more items and quests?
D: From the gameplay side, we are both children of the Super Nintendo era and love that classic turn based feel. You can expect the combat to be very easy to pick up, packed with that old school pixel art that we know and love.
O: The long term goal is of course to continue updating and improving. Unlike other games, ours is tied to a finite world, and so every update and bit of content we add becomes part of the real world… we don't know how far it can go, or how far we can take it, but we are excited to find out.
Interesting. You also mentioned a huge sense of community play and multiplayer. What's that like?
O: Well, right now, we are looking at designing a friend system that requires syncing your device with your friends' device, and then friendships would decay over time, unless maintained.  Anyone can say yes to a friend request, but really being friends is a totally different ball game, ya know?
How do they maintain their friendships?
O: They sync again…before the timer runs out!
D: Lets just say, we have plans to make it easy and convenient for you and your friends to stay together.
That's cool that you guys are including factors that encourage people to play together. Will there be a profile or leveling system?
D: The game currently has a level cap of 50, and the most effective way to get there is by questing through the main storyline.
O: If you mean an accessible profile, then yes. I'd love to build a web portal where players could see their characters and their achievements.
What is the targeted age group?
D: If you're old enough to have a smart phone, you're old enough to participate in our game. It doesn't matter if you're a 12-year-old schoolgirl or an 85-year-old grandpa, you can still put down the zombie horde with your weapon of choice: Your phone.
O: In the long term, I'm sure there are other worlds outside the zombie apocalypse that people are interested to play in, but that's a bridge we'll have to cross when we get there.
How long have you been working on the game?
O: I'd say it's been over two years for me. I have been working on figuring out the mechanics needed and how to translate that into programming language for a while, and my vision has changed quite a few times. It's a process to develop a game, and if you don't take your time with it then the game will reflect. There are little "ah-ha" moments like "relationship status" was to Facebook.. Or party finding systems for WoW…you have to find that stuff for whatever you're making.
D: Because we are fully funding ourselves right now, I still work two other jobs. So for me, it's been a long year.
Have you discussed a price point?
O: ARG Zombies will be free-to-play, and on BOTH iOS and Android!
Will it be similar to other free-to-play games where you can pay for premium items?
O: I don't doubt we will see premium items at some point in the future, but for now we plan to sell in-game currency, as well as allow players to earn it through friendships and defeating opponents.  The currency is going to be a form of "soul token" that will act a lot like quarters in an arcade: Players will power up, and come back to life, as well as purchase in game items- all with the in-game currency–but you never have to pay if you don't want.
That's really cool. Is there anything else you want everyone out there to know?
O: If you don't fight like Darryl Dixon, you're not on my zombie survival team.. Stay safe, stay alive!
D: I just want to say to every kid out there, believe in yourself, never give up your dreams, and punch fate in the face when it leads you in the wrong direction.
If you want to help David and Owen with their project, they have started a KickStarter page and you can help them reach their goal for only $1! You can check it out by clicking here. If everything goes well, they will release the game this holiday season. So spread the word–zombies are coming!