[Geek Culture is a recurring feature that highlights many of the non-video game related interests that we nerd-out on. This outing, we take a look at Justice League: DOOM.]
This past Monday, the Paley Center for Media in New York City hosted the premiere of Justice League: Doom, the new original animated movie from DC/Warner Bros. Animation. I was there to take a few snap shots, gather a few quotes from voice acting stars Kevin Conroy and Phil Morris, and voice acting director Andrea Romano. I also got to see the movie, which was almost an afterthought after meeting voice acting legends!
In case you don't know Kevin Conroy, he has been the voice of Batman in many animated incarnations for 20 years now. He started his role as the Caped Crusader in 1992 in Batman: The Animated Series, then went on to voice a much older version of the character in Batman Beyond before returning to a younger version in Justice League and Justice League Unlimited. By then his role as Batman was so ingrained in popular culture he also went on to do the video games Arkham Asylum and last year's Arkham City.
I think many would agree his nuanced performance aided in creating the definitive version of the character, which is really saying something for an icon that's been around for 75 years or so. He's always been my favorite version of Batman. I mean, his voice is what I hear in my head when I read any of the comics.
Humble, relaxed and wearing patches on the elbows of his jacket (so dashing!), Kevin Conroy had plenty to say during a round-table discussion with reporters. He talked about how he never expected to gain any kind of recognition as he assumed his job as the voice of Batman would remain anonymous, since that's usually the case for voice-over work. Or it used to be. With the advent of the Internet and astute viewer awareness (read: fanboys), that didn't last long. Apparently he gets recognized often and doesn't mind it.
When asked about Batman's longevity, Conroy insisted the Bat will outlive us all. As to why, he explained it's because Batman is a flawed human like the rest of us and that is what makes him iconic. He's a person with two faces — the private face (Batman) and public facade (Bruce Wayne). As Bruce Wayne he's just performing for the rest of the world. As Batman, he embodies a sense of "otherness". He's an outsider, and he thinks we can all relate to that for the most part. He also compared Batman to Hamlet in that regard, and drew similarities to the dark back stories of both classic characters.
According to Conroy, that outsider status is really exaggerated in Justice League: Doom. Batman is the only non-superhero on the Justice League, so he has to figure out a way to neutralize them in the chance they get out of control. In Doom, that idea comes into play when the immortal Vandal Savage steals Batman's contingency plans and uses them against the JLA (more on that in the mini-review below).
Eventually, the subject of Mark Hamill came up. Hamill, best known as Luke Skywalker in the original Star Wars trilogy, has been the voice of The Joker for just as long as Conroy's Batman. Conroy mentioned how well they work together in the recording studio, and explained what a joy it is to watch Hamill perform, that his whole body gets into the performance, so much so that he almost devours his microphone. Conroy insisted that people would realize Mark Hamill is one of the most talented actors out there if anybody saw him performing in the recording booth.
As someone who believes Hamill's Joker to be the definitive Joker, just as Conroy's Batman is the definitive Batman, I had no problem believing that.
Kevin Conroy also mentioned that he doesn't read comics, but loves historical literature, and that his favorite romantic pairing Batman has ever had is with Andrea Beaumont (voiced by Dana Delaney) from the 1993 animated movie Mask of the Phantasm. The Dark Knight aside, Mask of the Phantasm is my favorite Batman film, so I was pretty happy to hear him mention it. Conroy also confirmed the character of Andrea Beaumont is indeed named after voice director Andrea Romano.
When asked if he would ever retire from being Batman, Conroy replied with a laugh: "I hope not."
To get a taste of Kevin Conroy as Batman, here's a clip from Mask of the Phantasm between an emotionally tortured Bruce Wayne and an equally messed-up Andrea Beaumont: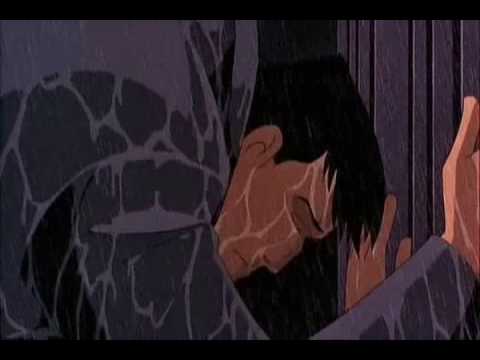 Next, the energetic and fast-talking voice and casting director Andrea Romano came out  and jumped right in to talk about how voice actors deserve more attention for their talent (otherwise it's just a "celebrity-fest"), and that her directing style is to usually let actors do their thing. She only steps in to tweak and tune. The only time she has trouble with an actor is when the actor fights her over line readings, and that can be something a veteran or a new actor can do. When looking for new talent the only thing she cares about is acting talent. Voice actually comes second, and according to her it doesn't matter if the actor can make a lot of voices or just do one unique voice really well. She can teach how to manipulate voice and use the microphone to an actor's advantage, but she can't teach someone how to act.
When asked about the reason so many voice actors record alone, instead of in ensemble sessions, she said it was mainly due to availability and money. In fact, that's the only reason George Newbern replaced Tim Daly as the voice of Superman in Justice League and Justice League Unlimited after Superman: The Animated Series wrapped. Daly moved away from L.A. at the time and Newbern (who is also the voice in Sephiroth in Final Fantasy VII: Advent Children and the Dissidia games) was the one available. In the case of Justice League: Doom, it was the other way around. Tim Daly reprises his role as the Man of Steel.
Romano also revealed she is involved in many projects at the moment, including "two Dark Knight pieces" most likely related to The Dark Knight Rises, and "three or four others." She also hopes for more female-centric stories but said the reality is that there are not as many of those written.
Phil Morris, who has a long list of acting credits that include Seinfeld (as the Johnny Cochran-like lawyer Jackie Chiles), several of the Star Trek series and Smallville (as the Martian Manhunter), showed up last. He got a lot of hypothetical questions at first, like who would Jackie Chiles represent in the DC Universe ("the villains" of course) and what he would do if he had immortality like Vandal Savage (show humanity that we are all "from one tree, one root"). He also said he would like to play Victor von Doom, the villain from the Marvel Comics' Fantastic Four. He said he would play him "like Eric Braeden from The Young and The Restless."
When asked about his penchant for Marvel, he responded that he was "a Marvel guy" growing up, that he had to pick a side as if he was in the "Crips or Bloods." He didn't trust Superman when he was younger. Now that he's older he makes no distinctions, and he's thrilled that comics have come as far as they have. When he met Christopher Nolan, director of Batman Begins and The Dark Knight, he thanked him as a fan for getting the movies right in terms of the integrity of the original comics. The comic medium taught him (and me, and plenty more) how to read, imagine, role play and learn the distinction between good and evil — they're morality tales.  So to see Nolan take those ideas and not play them small gave him (and us!) hope for the film industry.
Which brings us to Justice League: Doom. Thanks to a brilliant team of writers, designers and actors who understand the comics and the characters, the DC animated movies never had the problem of quality the live-action versions had. That high quality continues in Doom, a tightly-paced and well-written addition to the DC animated catalog. It doesn't reach the cinematic height of Mask of the Phantasm or Batman Beyond: Return of the Joker, but it's a step above most of the other animated direct-to-video movies that have come out. If I were to rank this I would put it just below Crisis on Two Earths and fan-favorite Under the Red Hood.
To reiterate, the basic plot involves Vandal Savage defeating the Justice League using Batman's contingency plans against them. The Royal Flush Gang show up in an introductory act, and the Legion of Doom (Bane, Star Sapphire, Cheetah, etc.) play their parts, but the majority of the movie is dedicated to watching Superman, Wonder Woman, Martian Manhunter and the rest suffer. As such, this movie might be a little tough to take for younger watchers. Even for me, I was a little taken aback at what was going on. Unless you're used to anime or other dark corners of animation, you don't often see threatened suicide and exhumed corpses in cartoons.
We're watching the heroes lose most of the time, and while that's nice and dark there's one part that overshadows the rest of the movie, and that's what happens to Batman/Bruce Wayne. The imagery and the whole idea of his situation upstages everything else, and even after it passed my mind kept going back to it. Perhaps this event played out the same way in Mark Waid's "Tower of Babel" story, which Doom is based on, but I can't help but wonder if maybe what happened to Bruce was a little much. I dunno, maybe I'm turning into a sensitive Pollyanna. But it was never given a satisfying through-line anyway, so that bugged me too.
In any case, hardcore fans will love this. Which is good since it's only for the fans. There's little introduction, back story or exposition for who the characters are or what they do, except for Vandal Savage who gets a scene that shows where (and when) he came from. Each member of the League gets their time to suffer and to shine in both the dialogue and action scene departments. Dwayne McDuffie's script is sharp and oftentimes funny, and if you love animated action that's the reason to watch this. It's 98% punching and flying and kicking.
The animation and overall designs are great. It could just be me, but the character designs seem to be informed by the recent Fullmetal Alchemist: Brotherhood. I know the DC Animated Universe has been inspired by anime since the beginning — TMS Entertainment, the animation studio that worked on Akira, Lupin III and many others, did episodes for Batman: The Animated Series and several other Western shows as well – but the eyes and faces look similar to Brotherhood to me, particularly Savage and his uniform. It hews very close to the white/blue military uniform worn by many characters in Brotherhood. He even shares King Bradley's sinister, aristocratic air.
The true star is the spectacular voice acting. Nearly every voice actor from Justice League returns for Doom, except Nathan Fillion plays the Hal Jordan version of Green Lantern and Tim Daly returns as Superman. Everyone sounds like they never left the roles they perfected in the TV series and in Fillion's case, he gets to really act (i.e. cry), while Batman gets the best/funniest lines. The whole gang sounds just as they should. On the villain side, you got stand-outs in Claudia Black of Farscape and Gears of War 3 fame as Cheetah and I really liked the calculating cold air Alexis Denisof brought to Mirror Master. I wasn't a big fan of Bane's voice this time around, an attitude that the rest of the theater shared as each time he spoke there was laughter in turn. Now that I think of it, his design is kind of goofy, too. Asymmetrical unitards are difficult to take seriously.
After the movie there was an audience Q&A with Conroy, Morris and Romano, and a DVD/Blu-ray give-away to a few audience members. Overall, it was a fun night, and a fun movie. You can find Justice League: Doom on DVD/Blu-ray combo pack on February 28.