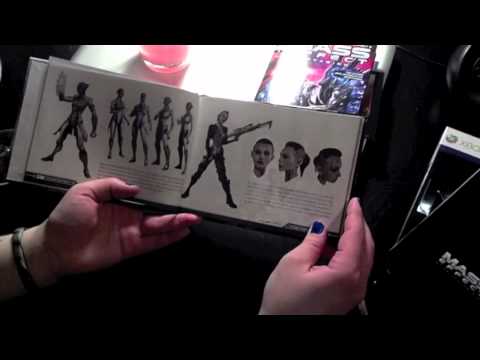 It's finally here, everyone…March 6th…BWRRRAAWWHHH! That's the sound of the Reapers coming down from above and shooting everything you ever loved and dreamed of loving with gigantic laser beams. And we celebrate the grand destruction with an unboxing.
The last two Mass Effect Collector's Editions weren't too impressive, but I think EA took the criticism to heart, and really outdid it with this one. Warning: THE ART BOOK SECTION HAS A FEW SPOILERS YOU MAY OR MAY NOT WANT TO SEE. I suggest you stop watching at that point if you want to remain spoiler free. If you don't want to watch the video at all, here's what's included:
- Mass Effect 3 double-sided (Male+FemShep) tin case
- Online pass + From Ashes DLC
- N7 velcro patch
- Art of Mass Effect 3
- Mass Effect Invasion Issue #1 (Dark Horse comics)
- Digital soundtrack
- Normandy avatar item (Xbox 360 only)
- Alternative outfits
- Robotic dog and sweatshirt for Shepard
- N7 Hurricane, N7 Crusader, N7 Valiant,  N7 Eagle
Clearly EA stocked you up with enough stuff to take down the Reapers. So what are you doing? Take Earth back!