The fighting game renaissance that began with Capcom and Street Fighter IV continues with a game from an unlikely source: Atlus. The RPG publisher is making a bold wager with its popular Persona franchise by placing its characters into a serious, competitive 2D fighter courtesy of developer Arc System Works (known for both the BlazBlue and Guilty Gear series). On August 7, the United States gets Persona 4 Arena, a deep and incredibly balanced fighter that fighting fans can't miss.
Below, you'll find basic terms that encompass the game engine, and are important to mastering fight strategies. We also include tips for successfully controlling each character. If you're looking to get into Persona 4 Arena, consider this your go-to guide.
Terminology
SP Gauge: Like any modern 2D fighter, supers and special moves use gauge or meter. In Persona 4 Arena, the SP Gauge starts at zero and maxes out at 100. However, when a character enters "Awakening," the maximum climbs to 150. Which leads us straight into….
Awakening: When a character's health is reduced to below 40% s/he enters Awakening. During this state, characters  receive 50 SP, and the SP Gauge is increased to the aforementioned 150. Characters also receive a defensive boost.
Blue Health: A portion of the yellow health meter turns blue when characters perform actions such as super cancelling, blocking a special or super attack, or unleashing a Furious Action. Health regenerates over time unless the character takes damage.
Furious Action: Furious Actions are desperation attacks that stop combos. There's a trade-off; it transforms 5% of your health into blue health upon use.
Persona Break: There are four card-shaped icons below each character's health gauge. If a character is hit while their Persona is visible, s/he loses a card. Likewise, if a Persona is hit, a card is lost. If all four cards are lost the character enters Persona Break. During Persona Break, characters are unable to use their Persona. This is very detrimental to characters that rely on their Personas like Shadow Labrys (see below). After ten seconds the Persona is ready for use again.
Fatal Counter: When you activate a Fatal Counter, every attack has an increased hit stun, leaving the opponent open for slower attacks that wouldn't be otherwise useable during combos. This allows for almost endless combo possibilities.
Burst: These are invincible attacks used to extend combos, reverse offensive moves, and to replenish your SP gauge.
Max Burst: Characters can only perform a Max Burst from a neutral position (not while blocking, attacking, or getting attacked). If it successfully hits the opponent, then the SP gauge is automatically filled to 100.
Defense Burst: During times of increased pressure from an opponent, the best bet is to use a Defensive Burst. This burst deals no damage, but it interrupts an opponent's pressure or advances. Defensive Burst can't be used while being hit or during a Persona break.
One More Bursts: This is essential for combo extensions, as you can cancel an attack into One More Bursts. If done correctly, your opponent is thrown into the air and is ready for a combo extension. The damage is also upscaled, meaning that it's increased on proceeding hits. This last a few seconds or until the character is hit.
Ailments: Unlike most fighters, characters in Persona 4 Arena are inflicted with different ailments like poison, charm shock, rage, and a few others when hit with particular moves (such as Elizabeth's throw which causes fear) .
Mute: Mute prevents characters from using Persona attacks. The muted character cures the ailment by hitting the opponent.
Shock: This disables any form of normal movement like air dashing, jumping, or walking. Hitting the opponent who caused the Shock cures the ailment.
Negative Penalty: This is my personal favorite. If a character tries to play keep away for too long, s/he is hit with a negative penalty. During Negative Penalty, defense is decreased.
Charm: During Charm a characters SP is drained, unless the character hits the opponent.
Rage: When a character's in Rage they can't block, but damage output is increased. It disappears after a few seconds.
Panic: This ailment reverses inputs: Up causes the character to crouch, while down causes them to jump, and so forth. Hitting the opponent who caused the panic cures it.
Poison: Like in any other game, poison causes the character to slowly lose health. Hitting the opponent or waiting a few seconds cures it.
Fear: This causes any hit to become a Fatal Counter.
Now that you know some of the basic terminology and different battle abilities it's time to meet the cast. Remember, it's your job to practice and figure out what works and what doesn't with each character. This is just a general overview on how each character typically plays.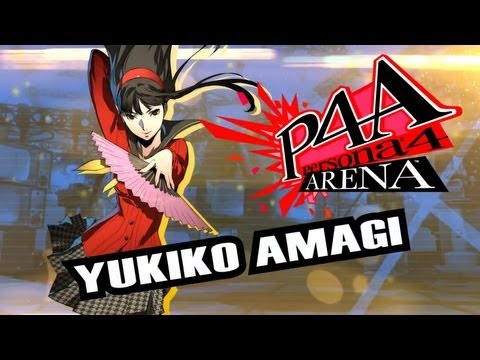 Yukiko Amagi/Konohana Sakuya
Yukiko is interesting to play; she has a few moves that cause her to boost her strength. Fire Boost increases the damage that fire attacks inflict, while Fire Break makes her next attack unblockable. She also has moves that are delayable. Delayed moves bait opponents into attacking, disrupting the timing of their attacks. Her normals are projectiles in which she throws her fan, setting her up as a great keep away character. She has to ability to heal herself by performing Dia. If the opponent is near Yukiko, Dia causes an energy burst that sends them flying across the screen. Her strengths are offset with very weak damage and heavy reliance on Konohana, her Persona. She's not for beginners; she doesn't allow the players to make to many mistakes due to low health. In the hands of a vet, her tricky mix-ups and unblockables are devastating.  Remember, Konohana carries the load with fast aerial attacks and flame projectiles.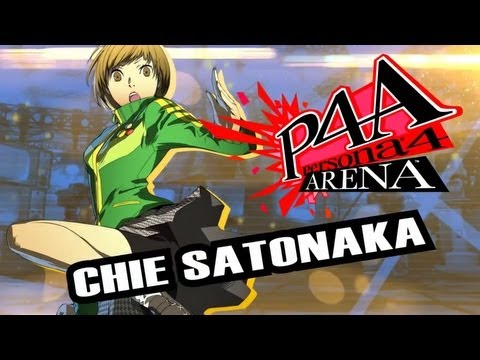 Chie Satonaka/Tomoe
To say Chie is a rushdown beast is an understatement. She can easily become overwhelming with her Kung Fu arsenal. She is also one of the hardest hitting characters in Persona 4 Arena. Performing her charge move can increase her damage output; this becomes increasingly devastating when you cancel her combos into her super combos. Her glaring weakness is her short attack range, which is alleviated a bit by her Persona Tomoe's mid range attacks. Agneyastra keeps aggressive opponents at bay with a meteor shower; this move instantly stops their advances. Beginners should have an easy time with Chie, but don't let that mislead players into thinking that she lacks depth.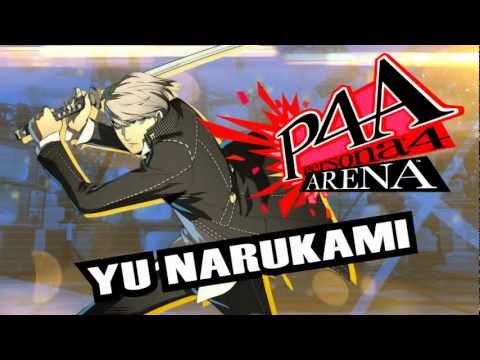 Yu Narukami/Izanagi
At first Yu Narukami might come off as a simple character, but the more players use him, they'll notice the many great combo possibilities. His Persona, Izanagi, uses a bladed weapon that creates great mid-range combo opportunities. His Raging Lion attack is a great combo opener–a dive kick-esq move that is safe to use in most situations. When it connects it creates enough hit stun for players to follow-up with other moves. Izanagi launches a projectile at opponents to create separation and pressure. Overall, Yu Narukami is a well-rounded character with no major weaknesses or resounding strengths. He's an extremely fun character who has damaging and formidable advanced combos.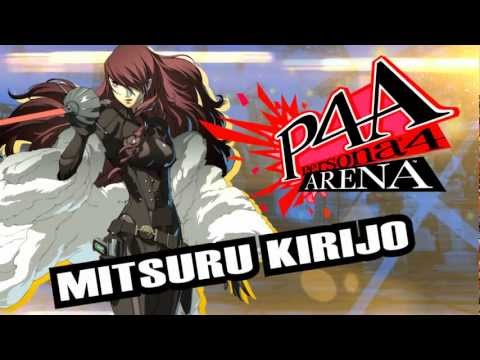 Mitsuru Kirijo/Artemesia
This character excels at any range, but is particularly effective at long-range. Her normals carry her through matches, but the trade-off is limited attacks. The key to victory is to control space and maintain constant pressure against opponents. She's also a charge character, meaning that some moves require players to hold a directional input for a few seconds, before performing any other inputs. Her Persona, Artemesia, uses freezing attacks that keeps players in place. Mitsuru's Bufula attack works much like Urien's Aegis Reflector from Street Fighter III. It's used to perform simple mix-ups and open up simple combo opportunities. Her charge moves make her a bit intimidating for beginners, but if players stick at it she can hang with anyone.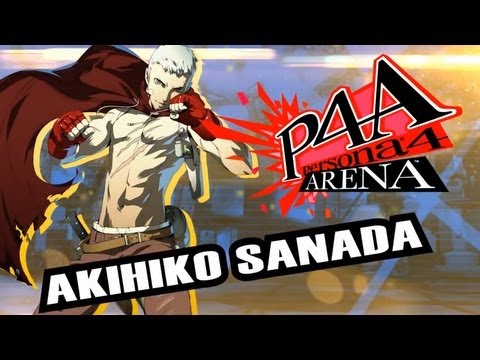 Akihiko Sanada/Caesar
Akihiko is difficult to use; he has a short attack range, and his mix-ups are horrible. To win with Akihiko, players can't make many mistakes and have to be very predictive of the opponents next move. These weaknesses are counterbalanced by his incredibly high damage output. His rekka-style moves will welcome players familiar with Street Fighter's Fei Long or King of Fighters' Iori. Akihiko's electric attacks paralyze opponents, which helps him compensate for his short range. There's also a Meta-game that encompasses his attacks: Akihiko can gain cyclone levels. Each time he cancels an attack, the level increases by one, with three being the max. This gives some moves special properties and make them more damaging. At level three, Corkscrew causes a wall bounce, and his Double Upper allows players to combo after the initial hit. His cycle level depletes if his moves stop being canceled. His Thunder Fist power up allows his punches to shock the opponent on block, preventing the foe from moving. The power up remains until Akihiko takes damage.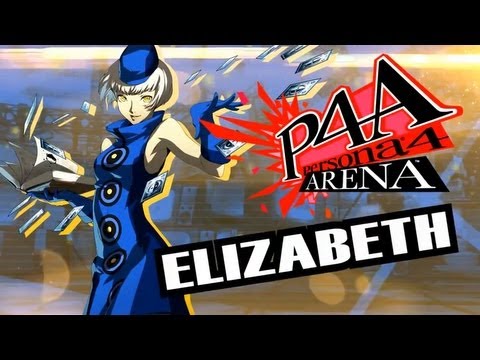 Elizabeth/Thanatos 
Don't let her slow speed and glass jaw fool you: Elizabeth does damage. With SP Up she constantly gains SP, meaning her SP attacks are almost always at the players disposable. She also inflicts a Fear status effect of her ground and air throws. Her Mind Charge is another interesting move. It converts her health to SP and also puts her in Awakening, a stage that allows her to perform stronger super attacks. Awakening also allows her to regain her health and gives her a defense boost.  Elizabeth's Persona Thanatos has a few interesting moves, one of them allows players to grab the opponent, bite and then throw them for a combo possibility. Thanatos also sets a poison trap on the ground. In short Elizabeth is a set up character, that uses her unique moves to dismantle opponents.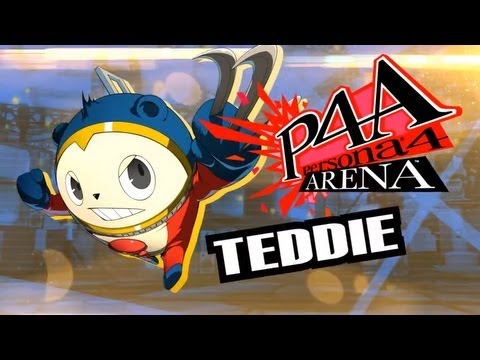 Teddie/Kintoki Douji
Teddie is a capable adversary, albeit his creative play-style requires one to think outside of the normal fighting game spectrum. His items (such as Air Bombs, Poison Curry, or Boomerangs) open several offensive options, including setting traps and performing tricky cross-ups. He's highly dependent of his Persona, Kintoki, who is the one that throws Teddie items. His normals are extremely fast, which helps him beat out many of the other cast members and set up his combos. Teddie Decoy is a great attack to escape aggressive opponents and corner situations, and Bearscrew is effective at closing distance and applying pressure on opponents. Creative players are sure to have fun swindling opponents into heavy damaging combos.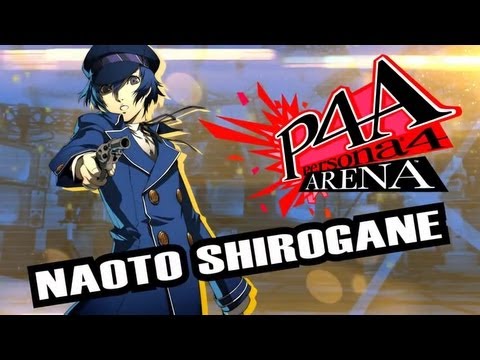 Naoto Shirogane/Sukuna-Hikona
This may very well be the best character in the game, especially in a pro's hands. Naoto is easily a top three zoning character and she's extremely efficient at the keep away game. Her pistol is her primary offensive weapon, and her Aim stance is crucial to success. With it, Naoto shoots opponents, but she can also ricochet bullets off the ground. After shooting opponents head on, ricochet is used to counter opponents trying to jump over her shots (she also has an anti-air shot). Similar to Akihiko, Naoto has a Fate Gauge that resides under her opponent's health. Certain attacks like her ground throw reduce the Fate Gauge, and once that meter reaches zero, the opponent is instant-killed. Her Persona, Sukuna-Hikona,  has a counter move that shoots at opponents. The most interesting move in Sukuna-Hikona's arsenal causes him to disappear and track enemies for a three hit combo that Naoto can jump into and extend this combo.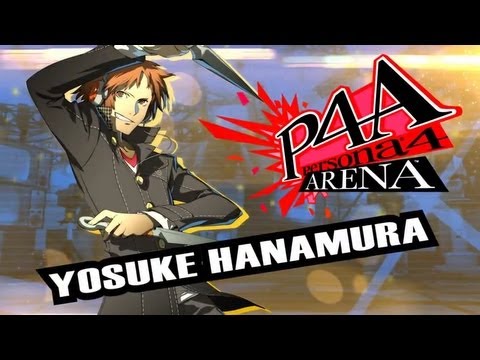 Yousuke Hanamura/Jiraiya
The speed king. Yousuke closes distance faster than any other character. His mix-ups are hard to defend against especially when he calls Jiraiya into battle. Jiraiya can use a dashing attack  that allows Yousuke to move in safely on opponents. When Yousuke gets in close, his throw is the best option as it poisons opponents. When Yousuke's health becomes critically low, his mobility drastically increases and he gains the ability to jump cancel (a dash jump/ glide). Jiraiya's Tentrafoo attack causes Confusion. When confused, players' movements are reversed (left is right, and right is left). He's extremely hard to guard against and has a strong tool-set to do some serious damage.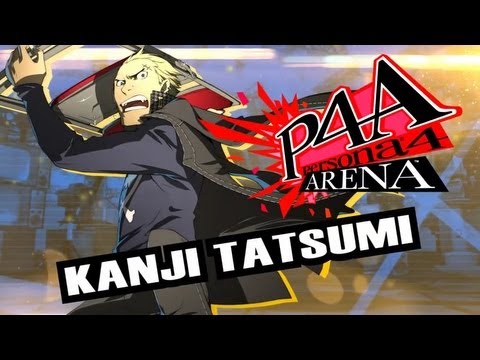 Kanji Tatsumi/Take-Mikazuchi
Every fighting game needs a grappler and Persona 4 Arena is no different. Kanji fits the grappler mold well: He has low mobility, great health, and a high damage output.  He's easily the most comical character in the cast besides Teddie (he has a bro-fist attack with his Persona), but don't take him for a pushover. His command throws do massive damage and his combos are brutal. He has an air throw so jumping opponents will suffer.  This'll Hurt is by far his strongest move if you exclude his supers. Take-Mikazuchi, his persona, deals a lightning damage, and like Kanji, his attacks hurt. Take-Mikazuchi's Gotcha attack grabs opponents out the air and leads to a tricky wake up game for Kanji. Those who enjoy trapping opponents in corners and creating havoc inside will be right at home here.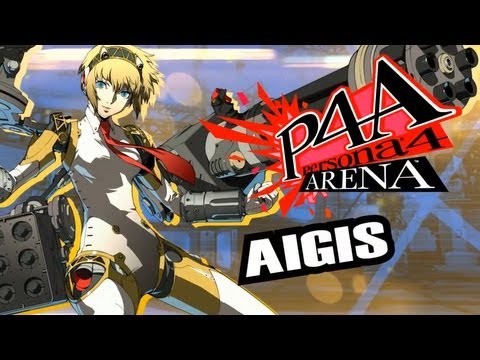 Aigis/Athena
This is the most complicated character to play in the game. It has nothing to do with her moves' directional inputs, but has everything to do with her intricate strategies. Aigis begins each round with 120 bullets at her disposal, and has an Orgia mode that's extremely crucial to her success and should never be wasted. When in Orgia mode, Aigis becomes extremely mobile. She can hover in the air, dash faster, and has access to some very rush down-centric attacks. Her Persona, Athena, helps prolong combos with her many different angles of attack, some of which come in from above while others cause her to dash across the screen. In the end, those who manage Aigis's resources (Orgia and bullets) will have a great time.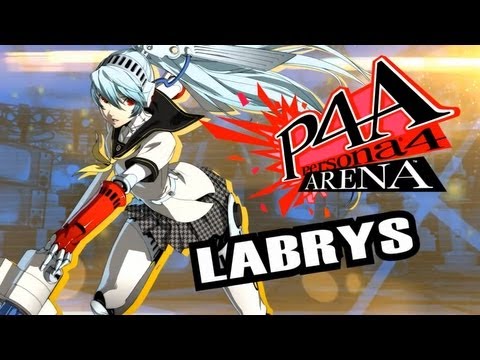 Labrys/Ariadne
Labrys may seem like an average character, but her normals have large hit-boxes. These normals become effective during cross-ups, making it tricky for opponents to defend. She also has an axe, which increases in level with each swing. At level 5, the axe turns red and deals massive amounts of damage (when the axe isn't being swung its levels begin to deplete). Her Persona, Ariadne, is a very capable zoner.  One move has her launch three slow-moving gears that cover about half the screen, and during this time Labrys is open to different zoning possibilities.  WinchDash is a fine move to cover distances and helps alleviate her slow speed. She fits well in the hands of patient players who let the action come to them.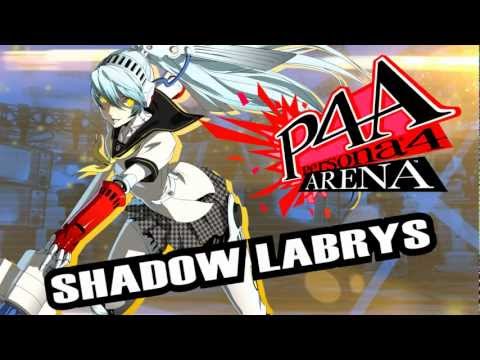 Shadow Labrys/Asterios
This in essence is the boss character. She's has lower health than the original Labrys, but her normals are identical to Labrys, minus her axe leveling. Her Persona, Asterios, is always on the screen which leads to many Persona Breaks. Persona Breaks are a small trade-off as Asterios can guard against attacks and has a great range. Shadow Labrys and Asterios attack together, leading to some insane cross-ups and a few unblockable setups. Needless to say, she's extremely hampered without Asterios.
There you have it, folks, everything you need to know to prepare you for Persona 4 Arena. Try each character until you find someone you enjoy. Luckily, the game is really well-balanced so there shouldn't be any over powered characters to exploit.
I'll see you online in the arena.