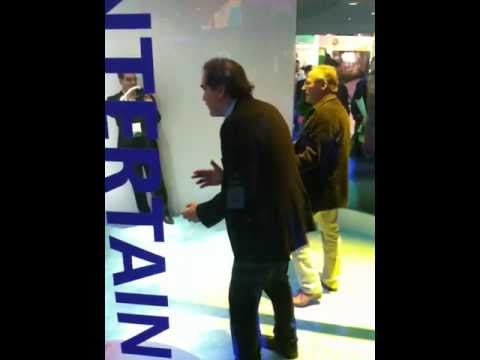 Venturing to Vegas during the Consumer Electronics Show guarantees that you'll see something that will leave a deep impression. Typically, this entails a piece of forward-thinking technology that excites, or a celebrity endorsing a product of dubious quality. CES 2011 was no different, but this time around what caught our eyes weren't the numerous tablets on display or MTV darlings, but two of America's finest visual storytellers: Oliver Stone and Michael Mann.
Team 2D-X happened upon the directors as they engaged in a friendly game of Kinect Sports, in particular Bowling and Table Tennis, inside of an enclosed, but transparent, Microsoft play area. The buzz about the pair's appearance grew to such a frenzy that members of Team Obama who were playing games in the adjacent play area stopped, smiled, and stared.
It was difficult to ascertain from our vantage point if Stone and Mann were playing well, but it certainly looked the case. It should come as no surprise; after all, Kinect gaming is all about removing the button-laden controller from the equation for what would be, theoretically, a far more natural and accessible interaction. Granted, in the video above they were still testing the waters. In the short clip below, however, the moviemakers appeared to get into the groove.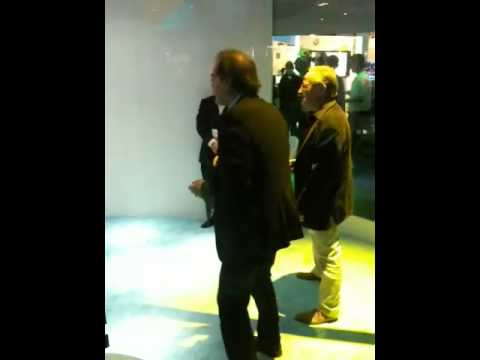 In addition, Stone displayed a knack for knocking down pins in Kinect Sports Bowling. More importantly, he appeared to be impressed with the controller-less video game technology and seemed to genuinely have fun.
Witnessing Oliver Stone and Michael Mann partake in our beloved hobby (on the world's largest tech stage, no less) really brought home the fact that video gaming has grown tremendously in the last three decades. Gaming is no longer the pastime for basement-dwellers; it's for you, me, mom, dad, and two of Hollywood's best.