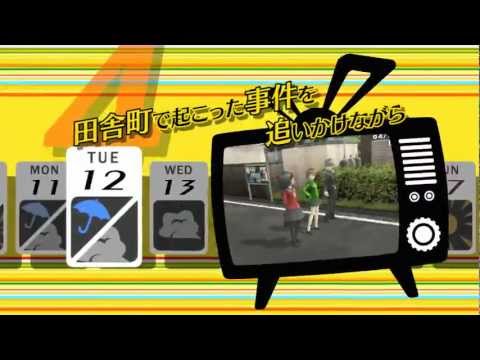 If you can stomach the squeaky girl voice up in that trailer there, you'll see that my #1 most anticipated PS Vita game is… a Playstation 2 RPG. Or rather, an upgraded port of a PS2 RPG called Persona 4: The Golden, and according to this barebones website from Atlus it's coming this Fall to save Vita owners from their ennui. We are singing the PS Vita blues, after all.
In case you're unfamiliar with the Persona series — an off-shoot of the Shin Megami Tensei series — it's a unique, accessible hybrid life sim/dungeon crawler, and it comes highly recommended. The fourth entry of the series won very high praise when it was released back in 2008 (the PS2 lived for that long!), and barring some game-breaking catastrophe, it looks like the PS  Vita version's going to be even better.
Here are the improvements we know so far in P4: The Golden:
- New voiceover dialogue and anime cutscenes.
- Completely new areas to visit like inns, beaches and and new story events and holidays like skiing.
- You can get a motorbike license and travel outside of town, and the bikes can be used in-battle.
- New Personas for every playable character above the ones granted for maxed-out Social Links.
- That said, new Social Links.
- New dungeons to explore.
- New characters like stripe-socked Marie. (Wild speculation time: could she be a Persona 5 character? Remember, Vincent from Catherine showed up in Persona 3 Portable…)
- New costumes and accessories to collect that will show up on characters in-game.
- Team-up moves between characters to obtain.
- An online co-op mode for players to "rescue" each other in battle in dungeons.
- A trading card game. Uses wifi to trade and obtain new cards.
- Profile cards that can be traded between players. Cards show your chosen handle, number of rescues, a personal message and an icon of your favorite character.
- A game show mini-game, the "Midnight Quiz" hosted by Teddy, a weird bear man person thing, that asks trivia.
- Full television programs and shows for the in-game TV to watch. Could they be like the full movies in The Darkness, or more likely, feature new illustrations from series artist Shigenori Soejima  and new music from series composer Shoji Meguro?
- A new gardening feature that grows new items. (Shades of Monster Hunter?)
All those additions, this is almost treading into remake territory. It definitely looks like something that'd keep my PS Vita busy. I never played the PS2 original, so everything in it will be new to me. Can't wait until the nebulous Fall of 2012. My money's on October!
Hopefully we'll get some playtime at E3 in a few weeks.