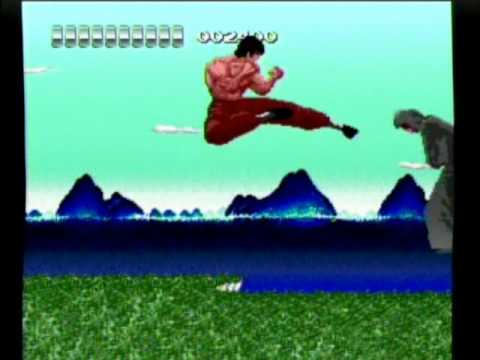 [Disasterpiece is a recurring feature in which the 2D-X staff admits to loving truly awful games. This outing, Jeffrey L. Wilson fesses up to China Warrior.]
When I was just a lad of 15 years, I had to make a major choice in the fall of 1989: would I beg my mother for a SEGA Genesis or a Turbo Grafx-16 to satiate my gaming lusts that holiday season? I plundered the pages of Electronic Gaming Monthly and Video Games & Computer Entertainment for months on end in order to get the nitty-gritty on the two systems. The result? I decided to go TG-16.
At the time that made sense for two very important reasons. Firstly, SEGA was my sworn enemy. The company had dared to challenge Nintendo and its 8-bit NES with the SEGA Master System, which sparked many a schoolyard pissing match between the  fanboy factions. Secondly, the game screenshots on the back of the TG-16′s Halloween-like orange and black box made the system feel like a true next-level machine. Big sprites! Colors! More on-screen enemies!
After a year of Keith Courage in Alpha Zones, my mom surprised me with a copy of China Warrior. The 2D game's protagonist (a Bruce Lee clone) and human enemies filled half the screen. Half the screen. Super Mario, Ryu Hayabusa, Little Mac, and a host of other NES stars were downright liliputian in comparison and, in my adolescent mind, couldn't touch the graphical might of the Turbo's 16-bit power. The only problem? That game was utter, utter ass.
But I still loved it.
What I had conjured up in my mind as being a bad ass single player take on Double Dragon turned out to be one of the most schizophrenic titles in gaming history outside of the NES Golgo 13 carts. It plays like an extremely shallow beat 'em up (that sees enemies marching in a straight line that you can take out with a single kick or punch), a busted shooter (when weaving between enemy projectiles), and a piss poor 2D fighter (when facing off against the boss of the each level). On top of that, the game plays on a conveyor belt; you're forced to move from left to right, which only stops when you duck down. As you can probably assess, there are many, many problems with China Warrior.
Yet, I played the game for hours on end. Granted, that's one of the side effects of being a child gamer; you're pretty much stuck with what you have unless your parents have an Edward Stratton III mentality. The saving grace, and what makes this game anything special in my heart, are the graphics. As a first generation TG-16 game, there's an immediate visual step above the NES and SEGA Master System. There are incredibly large sprites, a rainbow of on-screen colors, and very nice character shading. The Asian-themed tunes are catchy in that loop, late '80s sort of way
Playing China Warrior now doesn't inspire the same sense of awe, but it takes me back 20 years to when an entire generation had their minds fixated on fresh hardware and the audio/video advances that came with gaming's evolutions from 8-bit to 16-bit.
And I still sorta-kinda still find it fun in an awful, shame-inducing way.