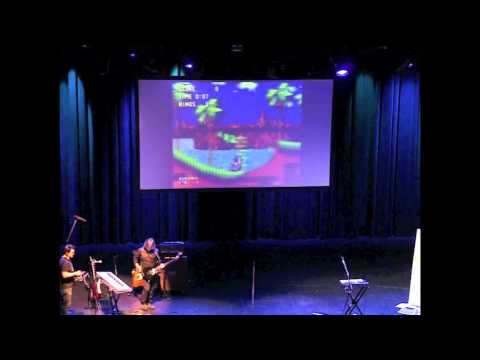 SEGA may have created a nice amount of buzz at its E3 2011 booth with a stacked lineup that included Anarchy Reigns, Sonic Genetations, and other choice titles, but it was the company's Sonic Boom party/celebration that was the highlight of the show. Located inside Downtown L.A.'s Club Nokia, Sonic Boom celebrated the Blue Blur's 20 years of existence via a party, rockin' concert, costume contest, and all around video game shenanigans.
Sonic Boom kicked off at 6PM. Attendees were treated to tasty finger food and Sonic-themed drinks as they engaged in nerd talk and played Sonic Generations on kiosks scattered throughout. Shortly thereafter, we were escorted to an auditorium where  Aaron Webber, assistant brand manager for Sonic the Hedgehog, emceed the evening. His first duty? Introduce Iizuka-san on stage to discuss the hedgehog.
Afterward, Jun Senoue and Crush 40 performed a musical montage featuring some of the most memorable tunes in Sonic history (the first act of which you can view in the YouTube clip above). Then we sat through a hilarious stage performance (Needlemouse: The Musical) and decided to return to the lounge area where we relaxed a bit after a long day on the E3 show floor, and prepped for the next party. We missed a "Happy Birthday" singalong (the vocals of which will be included in Sonic Generations) and a Yugi Naga stage appearance, but it was still one helluva show. Props to SEGA for throwing a birthday party worthy of the Blue One and knowing how to please a community of rabid Sonic fans.
Check out The Other View and SEGA America Blog for more Sonic Boom coverage.