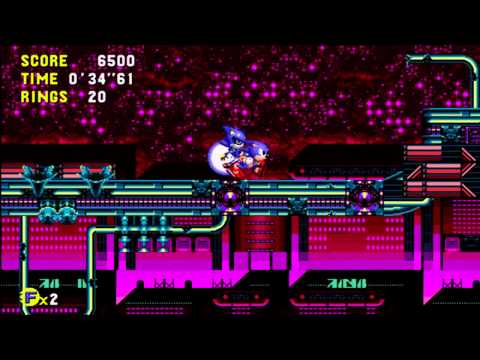 Sonic CD is now available to download on Xbox Live for 400 Microsoft Points, and should be available in the iTunes App Store for a cool $1.99 later today. The PlayStation Network version will go up next week on December 20th for $4.99. There's the launch trailer up there!
This version of the game includes Tails as a playable character, the option to play the American or Japanese soundtracks during gameplay, and a spiffy new HD face lift.
Along with Sonics 1, 2 and 3, Sonic CD is another one of the "golden age" games of the series, though it probably doesn't often get the attention it deserves because it was released on the unsuccessful Genesis add-on, the Sega CD. Originally released in 1993 and developed by a team led by Sonic's co-creator, Naoto Ohsima, Sonic CD boasts a peculiar CD-quality soundtrack, a somewhat complicated time-traveling system that affects the game's levels and ending,s and the craziest level design of the series. The placement of enemies and trademark springs and bumpers borders on cruelty at times, making it the most challenging of the classic games. Just look at this madness.
Plus, it's the first game to feature Sonic's biggest female fan, Amy Rose, as well as his most dangerous rival, Metal Sonic. This was back when Sonic characters were still welcome.
Sonic CD was also one of the first games with anime cutscenes during a time when anime was "Japanimation" and Akira and Sailor Moon were the only ones anyone knew about. Check out the colorful, kinetic animated intro below. Players of Super Smash Bros. Brawl or Sonic Generations may recognize the theme song.