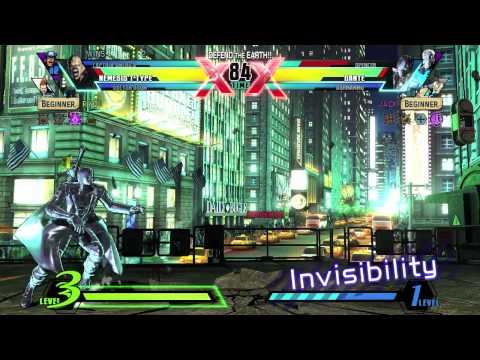 At last week's New York Comic Con, Capcom revealed Heroes and Heralds, a free post-launch Ultimate Marvel vs. Capcom 3 update.  The new game mode features heroes facing off against Galactus's silver-textured heralds. Your objective is to take control of zones (stages) by defeating the CPU. Your reward? Ability cards.
Ability Cards add another  level of chaos to Ultimate Marvel vs. Capcom 3. Each ability card grants the team new moves such as invisibility, projectile protection, extra jump, and many more. My favorite is an ability that I won't ruin for readers, just be sure to watch the trailer (wait for it at the end).
The cards feature your favorite Capcom and Marvel characters, and the character shown on the card reflects the ability. Juggernaut, for example, grants armor properties to characters. Each team will be allowed to choose from three different cards. Capcom says there is more than 100 cards, an the possibility of DLC cards.
Multiplayer is easily the best part of this announcement. Each week, players will be able to pick between a faction/clan Heroes or the Heralds side, and face off against other players. The stats are then tallied, and the winning side unlocks more cards. The score is reset for the next week.
So what's your early stance on Ability Cards?